What Are the Contents of Metal Culvert Inspection Work?
Corrugated metal culvert manufacturers share this article with you. The condition of the infrastructure makes many of our bridge and culvert structures need to be carefully repaired or replaced. In many cases, extending the service life of these culvert structures is an ideal goal worth achieving, freeing up more funds, manpower and available resources for other valuable projects.
Culvert inspection
The first step in any repair, repair or replacement project is the evaluation and evaluation of the structure in question. The first step is to conduct proper inspections and have a key understanding of the culvert type and material characteristics. When making such assessments, the unique main structural and geometric characteristics of the specific culvert product and the material being studied must be considered. There are many references to help engineers or inspectors with this process. However, some key factors are discussed here.
The key step in properly evaluating any culvert structure is to determine the type of materials used in its manufacture and installation, for example, stone and masonry, reinforced (or non-reinforced) concrete, corrugated metal (steel or aluminum), solid wall steel or iron or plastic (PVC or HDPE). Each culvert material type has a unique set of design and installation standards, as well as applicable standards for proper inspection and evaluation.
Understanding the nuances and differences associated with each culvert material type is very important to accurately assess the adequacy of the structure, estimate the service life, and determine whether the culvert is suitable for repair.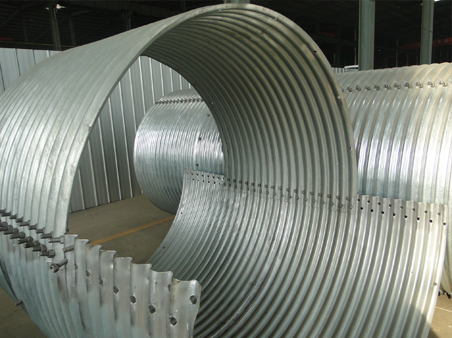 Corrugated Metal Culvert
Ideally, there is a set of plans or other documents related to a particular culvert, which are being evaluated for repair, repair or replacement. Since the last inspection of the culvert, previous inspection reports have proven invaluable in determining whether the corrugated metal culvert has undergone any changes or deterioration in physical conditions, shape and geometry, structural performance or hydraulic capacity . The prior inspection history should include those standards related to the specific type of culvert product being evaluated. Not all of these standards apply to every culvert product. Therefore, it is important to be familiar with relevant standards for comprehensive and accurate assessment of each culvert.
A correct and thorough culvert inspection should include the following:
Comply with applicable OSHA requirements and relevant agency guidelines related to confined space entry and inspector safety precautions. Before conducting culvert inspections, assess the risks associated with factors such as surge in water flow, air quality, fall protection, and worker accessibility.
Compare the inspection data with the data found in the previous inspection report. These data include shape changes, blockages, wall loss, perforations, cracks, settlement, seam separation or related problems, road troubles, etc., which can help you find changes or deterioration Conditions in any way. This helps inspectors and engineers determine appropriate measures and assess the relative urgency of any measures that need to be taken.
Measure, record and compare the cross-sectional geometry of culverts to perform shape measurements in previous inspections to check for major changes and establish patterns of movement or deflection.
Pay attention to and study the cracks on the culvert wall, wall cracks or deteriorated sections, joint problems, missing bolts or rivets, and buckling or other visible deformations of the culvert wall to have a potential impact on the structural performance.
Pay attention to and investigate changes in the road surface, guardrails, shoulders and adjacent side fill embankments, as well as changes in the end slopes related to the location of the culvert. For public safety, changes that may affect the integrity of the road should be considered in the inspection.
Since the main purpose of a culvert is to transmit flow, the inspection must consider the hydraulic performance and efficiency of the culvert. Pay attention to and resolve any debris accumulation that will affect the flow capacity of the culvert. Attention should be paid to the destruction of pipes that are upside down at the inlet or outlet ends, as well as the filling loss along the end slope. Both situations may result in loss of filling and support to the culvert and roadway above, and may require attention in the form of impervious walls, slope loops or paving, or other appropriate modifications to the end protection device.
Check the integrity and alignment of the joints. Attention should be paid to open joints to allow a large amount of water to seep out or backfill infiltration, and to mark possible repair methods. Misaligned parts of the pipe affect efficiency and flow rate, and provide a means for infiltration/leakage.
Pay attention to and evaluate the effects of wear loss, corrosion, perforation, and similar damage to the culvert material itself or to the coating, so as not to affect the long-term service life and structural performance. Record the presence of abrasives (such as rocks, gravel, sand, and other debris) that may be loaded on the grinding bed. Please note that due to the large number of corrosion products associated with corroded steel, the corrosion seems to be much more serious than it actually is. Usually, after using an abrasive pad to remove this obvious rust, it is found that the "rust" is actually a stain on the culvert wall, and the metal and coating underneath are working as expected. Take core sampling to verify the extent of actual metal loss.
It is recommended that all inspectors be trained in the key aspects of correct culvert inspection and are familiar with the nuances and unique design features of various culvert materials and types used within their scope of responsibility. Such inspections can usually be carried out by agent personnel, but proper knowledge of the functional hydraulics and structural design of specific culvert product types and familiarity with specific installation conditions on site cannot be overemphasized.
There are also companies that specialize in such inspection services and are able to evaluate culverts based on the appropriate set of standards applicable to that particular type of culvert. These companies should be familiar with correct design procedures, standard installation practices, and related factors that affect existing culverts for the type of culvert being studied and evaluated.