Corrugated Steel Pipe
Corrugated Steel Pipe
More than 100 years ago, James Watson was granted a patent for corrugated steel pipes (CSP). Since then, corrugated steel pipes have proved to be the backbone of the construction industry. It is one of the most acclaimed products of infrastructure because it can withstand the stress of heavy traffic and unstable foundations better than most building materials.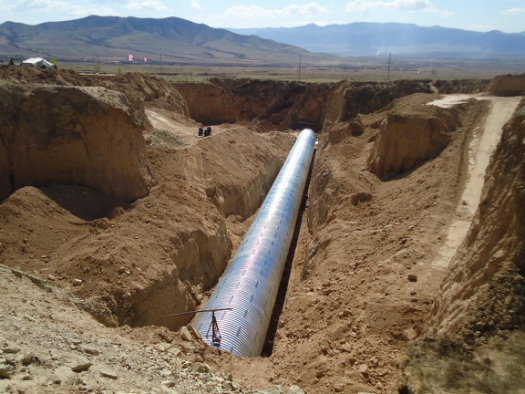 The durability of corrugated steel pipe for many years in drainage systems makes it the preferred material for culverts, stormwater pipes, spillways, subsea tunnels, underpasses, delivery pipes, service tunnels, holding cells and supply systems. The strength and integrity of the soil/steel structure is almost infinite.
Corrugated steel tubes are available in a variety of shapes and sizes to meet a wide range of drainage, sewer and transportation requirements. Can be made to exact specifications. The standard sizes of round tubes are 150 mm to 8 mm (6 inches to 26 feet) and larger sizes are available. Tubular arches, long-span structure plate arches and box culverts have a variety of ascending and span combinations. Stiffeners and unstiffeners have been used for the arch, with spans of 80 feet (25m) and 110 feet (33.5 m), respectively.
Studies have shown that corrugated steel pipe generally provides excellent soil lateral durability. With proper coating and/or reverse cladding, CSP can provide 50-100 years of service life in a wide range of environments and applications. Maintenance costs can be effectively controlled through modern design standards for structure and durability.
1.The benefits of corrugated steel pipe
Reliable service life of various thicknesses and coatings.
The structure is strong and can withstand high live load and deep buried soil load.
It an be traced from verifiable data on product quality.
Sustainable products through the use of materials with the highest recycling rate in the world.
The lightweight structure facilitates handling and installation.
Economic solutions for initial and lifecycle costs.
Flexibility in design of various sizes, long sizes and assembly parts.
Corrugated steel tubes come in a variety of sizes, shapes, specifications and corrugated Outlines to help designers meet the hydraulic and structural conditions of each site.
2.The configuration files available
2 2/3 x 1/2 inch, 3 x 1 inch, and 5 x 1 inch
The diameter ranges from 6 inches to 150 inches.
In addition, corrugated steel has a variety of coatings, including galvanized (galvanized), aluminized type 2 and polymer film, etc. Depending on the appropriate coating selected for the applicable environmental conditions, the service life can be more than 100 years.
3.Corrugated steel pipe can be used
Culvert, bridge, the tunnel, - under passed, ecological crossing, the pedestrian tunnel, hangers, shelter, warehouse, stores for ammunition, belt conveyor protection, the ventilation pipe, and for reinforcement and reconstruction of existing structures as well.
A multi-board structure can be used for each type of service load as long as appropriate backfill is performed.
4.Steel
Steel used for corrugated steel pipe is produced in accordance with Chinese standard.
Minimum yield strength 235N/mm2 and 345N/mm2
Steel standard Q235 and Q345
Also it can accordance with EN10025
Steel standard S355JR, S235JR, S315MC
And can adopt the other standard steel according to customers' demand.
We are corrugated steel pipe suppliers. If you are interested in our products, please feel free to contact us.