As we all know that corrugated metal pipe is usually used in bridge construction. We are corrugated pipe manufacturer. I will always share knowledge about it. Today what i will share is the Considerations of Bridge construction.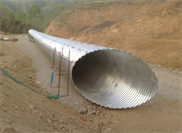 1. Pay attention to the construction quality of the arch adjustment layer. In the construction of this layer, it is necessary to pay special attention to the specifications, gradation and mix ratio of each material to ensure the flatness and compaction within the effective width of the layer. It is the basis for ensuring the quality of the construction of the grassroots.
2. Strengthen the maintenance of the grassroots level. After the construction of the grassroots level is completed, the sacks are used for maintenance, and the asphalt emulsion protection can also be used.
3. In the construction of the base layer, strictly control the thickness of the loose paving, and minimize the formation of the base layer in the optimal water content.
4. Strictly control the flatness of the base layer, and use the 3m ruler to measure the flatness of the base layer before the surface layer is paved. The flatness and the large section should be leveled.
5. The construction quality of asphalt pavement also depends on the quality of the main material and the mix ratio design of the asphalt mixture and the mixing of the asphalt mixture.