The theoretical basis of Corrugated Steel Pipe design is plate and shell theory, material mechanics, computational mathematics, etc. The parameters of the Corrugated Metal Pipe design are many. Due to the different uses of the bellows in the system, the design calculations have different emphasis. For example, a bellows is used for a force balancing element, which requires that the effective area of the bellows to be constant or small within the working range is used for measuring components, requiring that the elastic properties of the bellows be linear; for vacuum switching tubes as vacuum seals It requires vacuum sealing, axial displacement and fatigue life of the bellows; for the valve as a seal, the bellows should have certain pressure resistance, corrosion resistance, temperature resistance, working displacement and fatigue life.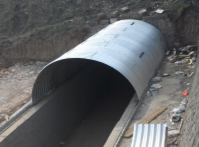 According to the structural characteristics of the bellows, the bellows can be composed of a ring shell, a flat cone shell or a ring plate. Designing and calculating the bellows is also the design of a round shell, a flat cone shell or a ring plate.
The parameters calculated for the bellows design are stiffness, stress, effective area, instability, allowable displacement, pressure resistance and service life.