What is The Production Line of The Bellows?
Corrugated Pipe Culvert is a kind of new lightweight pipe made of polyethylene as raw material, processed by extrusion and special molding process, with smooth inner wall and closed corrugated outer wall. It has good performance and good quality and is suitable for various projects. It is widely used in municipal sewage drainage, farmland/garden drainage, buried drainage outside the building, mine, tunnel ventilation, drainage, communication cable, cable protection sleeve, various roads, and stadium drainage.
Exterior: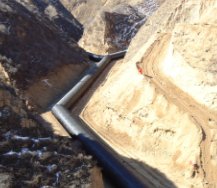 1) The inner and outer layers of the pipe are uniform in color, and the outer layer is generally black;
2) No blistering, dents, obvious impurities and irregular corrugations are allowed on the outer wall of the Corrugated Steel Pipe;
3) Both ends of the pipe should be flat, perpendicular to the axis and located in the trough area.
Features:
1) Anti-aging, corrosion resistance and long service life;
2) The inner wall is smooth, the flow resistance is small, and there is no scaling;
3) Good sealing and not easy to leak;
4) Shockproof and impact resistant;
5) It has excellent hygienic performance and is environmentally friendly;
6) Light weight, convenient construction, small maintenance and low comprehensive cost.
We are pipe culvert supplier. There are Corrugated Pipe Culvert For Sale. If you have demand, welcome to contact us.