Knowledge of reinforcement of old Bridges and culverts on roads
As an important part of highway engineering, culvert is widely used in all levels of highways. After being put into use, some culverts, due to heavy traffic load and heavy traffic volume, have various diseases or need maintenance and reinforcement due to old road upgrading. Corrugated metal culvert, as a new construction method of highway bridge and culvert, is widely used in the design and construction of culvert, especially in the maintenance and reinforcement of old culvert.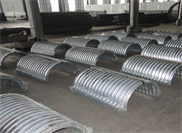 At present for the old Bridges usually adopt the way is: within the existing Bridges placed one or several culvert metal pipe, generally uses the steel corrugated pipe culvert, this method has achieved good results in engineering application.