[Explanation] Corrugated culvert pipe refers to a pipe buried below the ground surface, cast with reinforced concrete, commonly known as cement pipe. Small culverts are also made of metallic materials.
[Use] It is used as a water diversion pipe under the entire section of cofferdam and dam, and it is generally used as a water transfer pipe. At present, the water supply and drainage pipes in most cities in China use cement pipes as culverts.
Metal corrugated culvert pipe is made by corrugating a 2.5-7.0mm thin steel plate surface and rolling it into a pipe joint, which can increase the stiffness of the pipe joint and the resistance strength of the pipe shaft pressure. The resulting culvert is called a bellows culvert. In order to prevent corrosion of the corrugated pipe culvert, the inner and outer surfaces of the corrugated pipe joint and the fastening bolts were hot-dip galvanized, and the average thickness of the galvanized layer was ≥63 μm.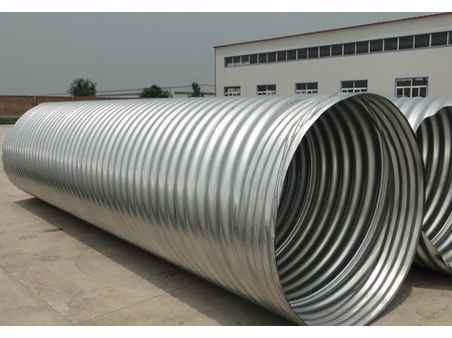 Metal Corrugated Culvert Pipe
Compared with reinforced concrete pipe culverts, corrugated pipe culverts have the advantages of thin pipe sections, light weight, easy transportation and storage, simple construction technology, fast assembly and short construction period.
When building a corrugated pipe, it can be assembled into any length at will according to need. If necessary, the pipe joint can also be removed and relocated to other places for construction. The advantages of corrugated pipe culverts are even more pronounced in areas lacking sand and gravel materials or areas with low foundation bearing capacity.
The corrugated pipe culvert is a flexible structure, which has a certain anti-seismic ability, and can adapt to large settlement and deformation.
The disadvantage of the corrugated pipe culvert is that it consumes more steel than the concrete pipe culvert, and its price is greatly affected by the steel price market.
Corrugated pipe culverts have been widely used in foreign highway, railway and building construction projects. Some developed countries not only have factories for manufacturing corrugated pipe joints, but also some countries have issued codes and regulations for the design and construction of corrugated pipe culverts. Before the liberation of China, the highway and railway departments also used corrugated pipe joints imported from abroad. At present, there are factories specializing in the production of corrugated pipes in China. In view of the many advantages of such pipes and culverts, China's steel output has reached the forefront of the world, and the prospects for the promotion and application of corrugated pipes in China are very broad.
Several names of steel bellows culverts:
Culvert pipes are also called metal corrugated culverts, metal corrugated culverts, steel corrugated culverts, steel corrugated plate channels, metal corrugated plate channels, corrugated steel pipes.