Anticorrosive Mechanism For Assembling Corrugated Culvert Pipes
Anticorrosive Mechanism For Assembling Corrugated Culvert Pipes
Domestic Corrugated Culvert Pipe Factory assembled, pipe joint and slab after hot dip galvanized processing, its average thickness of the galvanized layer is more than 84 microns, without a saline water or hazardous industrial waste water often period under the condition of soaking, the galvanized layer can prevent rust, use fixed number of year can reach 60-80, according to the survey, generally not the thickness of the galvanized iron pipe wall corrosion loss every year as follows: 0.01 to 0.03 mm. At present domestic culvert before they go out, are more conservative than the culvert abroad, 0.5 mm more than the wall thickness under normal use, can increase the service life of 25 to 50 years, in addition the culvert shipped to the construction site, the site rinse twice asphalt, the asphalt coating thickness of 0.4 mm to 0.5 mm, the use fixed number of year can increase 5 to 15 years, and according to the actual situation of domestic vehicle overload transportation, manufacturer of corrugated culvert pipe technical parameters have been adjusted (wave, deep wave, wall thickness), increased the assembled corrugated culvert pipe in the insurance coefficient of domestic use. Therefore, the service life of Steel Corrugated Culvert Pipe In China can reach or exceed 100 years.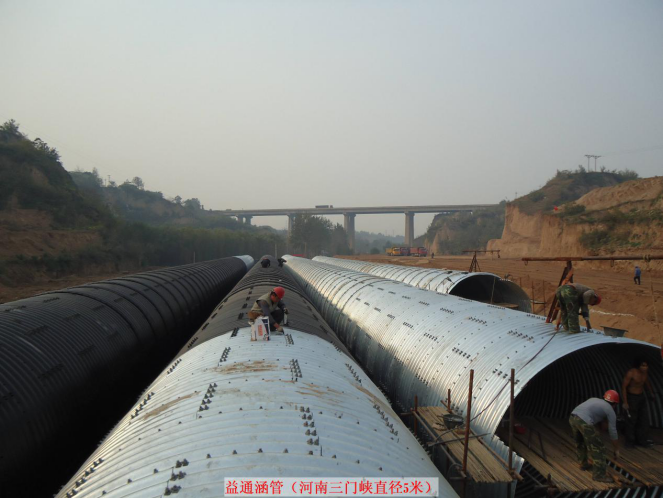 In 1978, AISI study of American iron and steel institute showed that when steel corrugated pipe was applied to rain water pipe, 81 corrugated pipes remained in good condition and the service time was 65 years.
In 1986, NCSPA, the American steel bellows association, cooperated with AISI, the American iron and steel institute, to conduct a study on the steel bellows drainage pipe with a service life of 74 years. The results showed that the series of steel bellows after painting could provide a service life of nearly 100 years in some soil and water environments.
In 1993, 21 structural plates and inner walls with galvanized protective coating in British Columbia were installed for more than 20 years, and the service life was estimated to exceed 100 years except for 2 structures.
The latest foreign research report concludes that the average life expectancy of corrugated steel culvert is 81 years.