What is the Role of the Corrugated Structure of Metal Bellows?
The corrugated structure of the Metal Corrugated Culvert can make the culvert road surface with reasonable force, uniform load distribution, and certain anti-deformation ability, which can solve the damage problem of the bridge and pipe culvert structure in the cold region (frost) in the north; Expansion joints for improved driving comfort.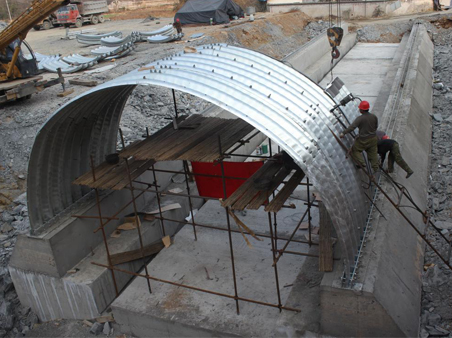 It is also conducive to improving the "wrong" phenomenon at the junction of the soft soil foundation structure and the embankment, and improving the safety of driving. The post-construction operation and maintenance cost of the corrugated pipe culvert from the Corrugated Culvert Pipe Supplier are low, and the actual cost of the project is also lower than that of bridges and culverts of the same span.
Metal bellows culvert, also called bellows culvert, refers to a threaded bellows for culverts buried under roads and railways. It is a round steel tube made of corrugated steel sheets or corrugated steel sheets. Widely used in roads, railways, small bridges, passages, retaining walls and various mines, roadway retaining wall support and other culverts (tubes).
We are Corrugated Metal Pipe Supplier. If you want to know more about our expertise, please feel free to contact us!