What is the Basis for Corrugated Metal Pipe's Laying And Installation Process?
The arrangement of the Corrugated Metal Pipe is generally carried out after the beam reinforcement, the bottom reinforcement and the intercostal reinforcement, and the installation of the water pipe is pre-buried.
What is the basis for the installation and installation of steel corrugated culverts?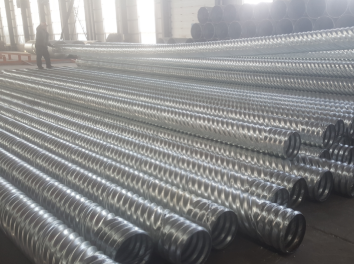 (1) Familiar with the construction drawings and related specifications, atlas, strictly in accordance with the design dimensions, positioning and release control, preparation for written technical submission and concealed acceptance.
(2) After the installation of the bellows is completed, the specification, quantity and position of the pipe shall be checked and accepted by the representative of the construction unit or the supervisor. After acceptance, the acceptance record of the concealed project shall be filled out, and then the pouring operation shall be carried out.
(3) In order to ensure the spacing and straightness of the Corrugated Steel Pipe, the bellows can be spot-welded with the steel bracket to avoid the left and right displacement when pouring.
(4) During the rainy season, attention should be paid to preventing the floating and displacement of the pipe. When the pipe is installed and the soil has not been covered by the blisters, the bottom of the pipe and the center of the pipe should be re-tested, and the rework measures should be taken.
(5) Check the shape and specifications of the Corrugated Steel Pipe Culvert, and lay them in a flat layup according to specifications and models.
In addition to these, there are some other factors. If you want to know more about the construction measures or the demand for our corrugated pipe, please contact us via the background message or email.
Our email address is:info@corrugatedmetalculvert.com