Several steps in the installation and backfilling of Corrugated Steel Culvert Pipe:
For the large-diameter Corrugated Steel Pipe Culvert, the construction technology of the assembled culvert should be adopted. The pipe diameter of 2.0~2.5m should be connected by pipe joints. The pipe diameter should be 3.0m. The structure should be assembled by the plate-shaped curved corrugated plate. According to the design of the wire points, straight curve corner table and culvert design drawings, calculate the coordinates of the longitudinal and transverse axes of the steel bellows culvert using the total station to stop the overall positioning and detail stakeout.
After the operation points are transported to the construction site, each piece must be inspected for size, and a piece of plate and high-strength bolts should be randomly selected from the metal corrugated culvert tube from the Corrugated Steel Pipe Manufacturer, and then the items such as size, anti-corrosion and strength should be inspected. The inspection data should meet the relevant requirements of the country. Before the construction of the sulcus for construction, it is necessary to familiarize the design documents and design techniques on the one hand, and check the three-dimensional status and angle of the culvert on the spot. If the results are timely, the construction of the access road will be completed and meet the construction needs.
Corrugated culverts and high-strength bolts and nuts must be hot-dip galvanized and treated before leaving the factory.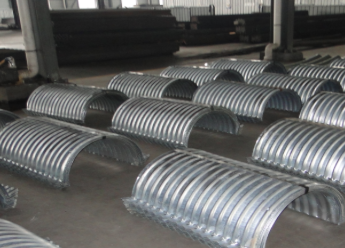 Metal corrugated culverts must be handled with care during transportation and handling. Do not roll or bump hard objects to prevent deformation of the bellows wall or damage to the galvanized layer. Transportation and installation of steel bellows Steel bellows are usually factory regulated and have been galvanized at the factory. After transporting by car to the construction site, it is not possible to indirectly pull the cargo when unloading, and use the crane to manually stop loading and unloading to prevent damage to the galvanized layer.