Steel Bellows Help Improve Urban Shackles
At present, the application of Corrugated Metal Pipe Culvert has been gradually extended from the initial highway culvert to highways, municipal highways, railways, bridges, agriculture, ports, airports, municipal pipelines, industrial, commercial buildings, residential buildings, mines, old infrastructure restoration, New energy and military fields. According to statistics from relevant US agencies, in recent years, steel Corrugated Pipe accounted for more than 30% of the US large-diameter pipeline market, and annual sales of corrugated steel pipes in the United States reached US$15 billion. In addition, East Asian countries such as Japan and South Korea have also used bellows since the end of the 20th century.
With increased environmental awareness, rising labor costs, and increased construction requirements, countries such as the United States and Canada have expanded their applications of Steel Corrugated Culvert to cover almost all areas where concrete and ordinary steel sheets were used as construction materials, including : roads, railways and mine tunnels, rivers, sewage, drainage ditches and pipelines, underground foundation protection, rainwater, oil and other liquid storage tanks or wells, solid warehouses, simple warehouses and workshops.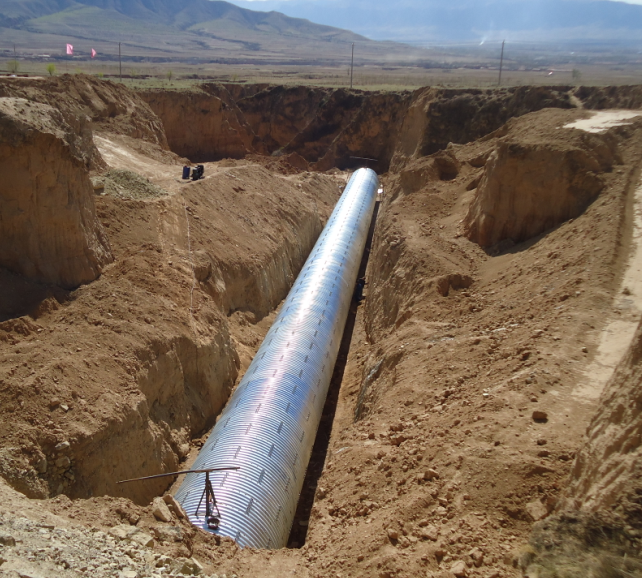 It is particularly noteworthy that in the face of urban flooding caused by heavy rains, the US solution is to adopt an underground rainwater collection and release system built from CSP materials. Such systems have been widely promoted in the United States as an auxiliary system for commercial, public and civil buildings and road facilities such as parking lots, parks, stadiums, embankments, rainwater siltation belts, floodplains, drains, and depressions.