Apply the Earliest Steel Bellows in China!
In the war years, engineering materials, manpower, machinery and other resources were extremely scarce. The total construction period was reduced to one year. It is difficult to build roads. Some drainage facilities use steel corrugated board structure, which has low transportation cost and can be quickly set up to meet the operational requirements. At that time, the situation was special and the relevant design materials were missing. In 1965, the Yunnan Highway Bureau excavated a section of Steel Corrugated Pipe in the overhaul of the Burma Road, which was confirmed to be installed during the Second World War and imported from Ohio.
Up to now, nearly a hundred years of history, the bellows that have been excavated are now kept in the exhibition hall. This quick-assembled structure can be used as a warfare bridge.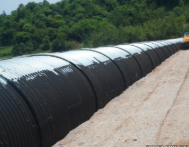 We are Corrugated Pipe Supplier. And There are high quility Tunnel Liner Plate and Culvert For Sale. If you have demand, welcome to contact us.